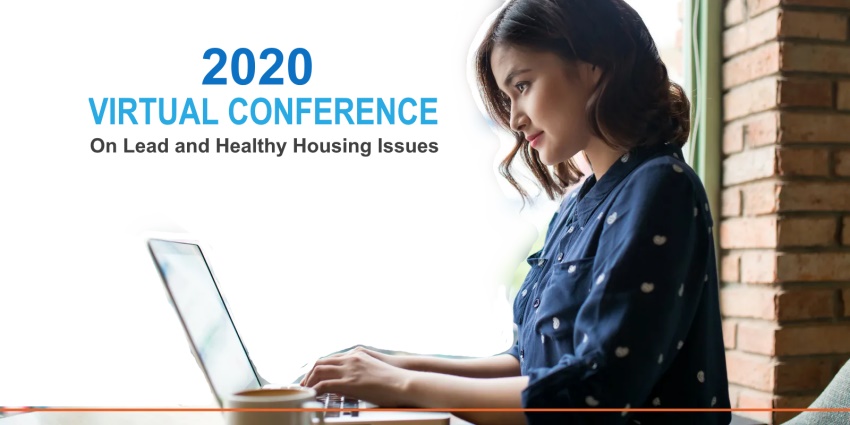 Expand Your Expertise and Knowledge through the 2020 Virtual Conference on Lead and Healthy Housing. A great learning event that will provide you with over 30 conference sessions, streaming August 31 – September 4, 2020 and on demand through October 31, 2020
Your paid registration provides you with access during the scheduled presentations, where you can interact with presenters, as well as on demand access after each of the live presentations have been completed.
By attending this virtual conference rather than a hotel-based conference, here's what you'll miss:
You won't have to wait for an Uber ride to the airport.
You won't have to be padded down by the TSA agent.
You won't have to stand in a long line in Concourse A to get a Starbucks coffee.
You won't have to take an hour's ride to the hotel and wait behind 8 others to check in.
You won't have to find out that your hotel room won't be available until 4:00 p.m.
You won't discover that your name is misspelled on your conference badge.
By attending the Virtual Conference on Lead and Healthy Housing, here's what you'll get:
Access to over 30 presentations.
New ideas, success-proven strategies, ways to improve job performance and the latest in research findings that will keep you informed and ahead of the game.
The opportunity to participate in Q&A sessions with the presenters.
You can attend the conference remotely from your home or from the office.
Access to all conference session replays on demand.
The Virtual Conference has been pre-approved for 28 hours of CEUs by the National Environmental Health Association
Presentation Topics and Presenters
When Will the Virtual Conference Take Place?
Presentations on all of the conference sessions listed above will be made available at specific days and times from August 31 – September 4, 2020. Afterwards all of the presentations will be accessible on demand through October 31, 2020.
Where Will I View the Virtual Conference?
Wherever you're most comfortable. Since this is a virtual conference, you will be accessing all of the presentations online through a computer or mobile device that has an Internet connection and can play videos and sound.
What if I Can't Make Some of the Sessions?
No problem. You will have access to a recorded version of all the sessions until November 1, 2020.
The virtual conference has been pre-approval for 28 CEU hours from the National Environmental Health Association. Registrants will receive the NEHA pre-approval letter and the Certificate of Completion along with their registration confirmation letter.
Ways You'll Benefit by Registering
ENGAGE
in educational programs that are excellent learning and technical assistance sessions
EXPLORE
successful techniques for increasing screening rates among at-risk populations; for undertaking housing-based primary prevention programs; for conducting public education and community outreach programs; for expanding from lead hazard control to Healthy Homes programs, for conducting integrated pest management and bed bug eradication programs; for conducing healthy housing inspections and remediation; for providing lead poisoning prevention and healthy housing information to refugee families; for creating an environmental health collaborative; and, for improving and streamlining grant management procedures.
TAKE
hundreds of new ideas to your work
Help You Meet the Challenges
Environmental health practitioners, health educators, environmental hazard remediation professionals, and building operators face growing challenges. From tight budgets to issues of political and public support to determining appropriate work practices and to questions of environmental science, they all face mounting concerns of how to effectively operate and sustain programs, projects and businesses. The main purpose of the conferences is to help attendees explore solutions to the challenges that are encountered each day in efforts to implement success programs.
Who Should Attend?
The conferences bring together professionals from health, housing, community development, community groups, advocacy organizations, the lead industry, real estate firms, and residential and commercial facilities to explore ways to undertake programs and projects designed to prevent incidents of lead poisoning, eliminate indoor environmental hazards, and create healthy living and working environments.
Have Any Questions or Interested in Making a Presentation for a Future Conference?
Contact us using the following secure email form.