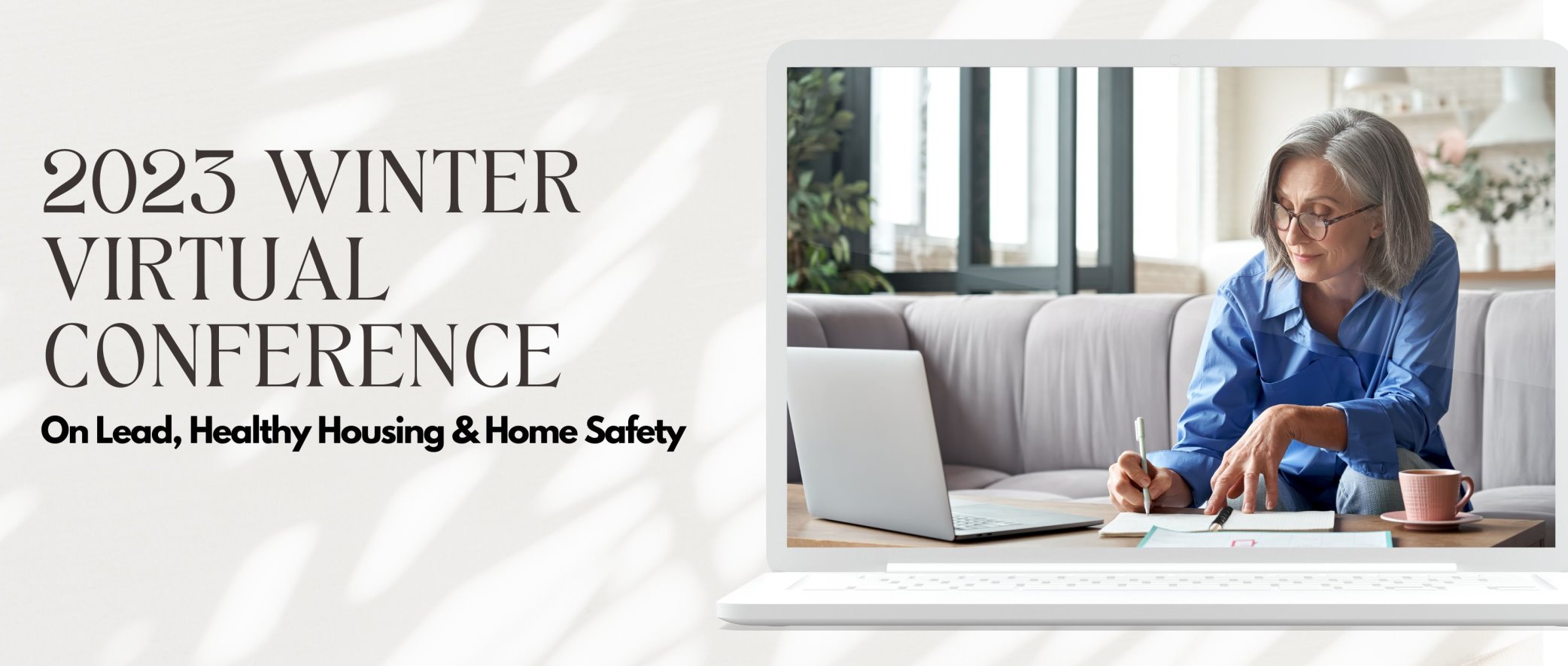 Includes unlimited access on demand for six months
(Includes unlimited access on demand for six months)
​Expand your expertise and knowledge by registering for the 2023 Winter Virtual Conference on Lead, Healthy Housing, and Home Safety. A great learning event that will provide you with over 25 new conference sessions.
The content of the virtual conference includes the following:
Discussions that provide you with strategies for implementing and evaluating programs in your community. Being able to view these discussions and benefit from the "lessons learned" will be of substantial value to you.
Colleague's presentations that will provide you with insights into ways to undertake lead and healthy housing programs and enhance what you're doing in your community.
Includes unlimited access on demand for six months!
Presentation Topics and Presenters
Here is a Partial Listing of Topics and Presenters for the 2023 Winter Virtual Conference
Use of Evidence Guided Strategies to Implement Smokefree Housing Rules
Efforts to Increase Lead Hazard Control Grants Uptake for Residential Lead Remediation during the COVID-19 Pandemic: A Case Study in Lancaster, PA
Contribution of Tobacco Smoke to Levels of Lead and other Metals in Household Dust
How to Inspect that the Lead Hazard Control/Remediation Work is Done Properly
An 'In-Home' Asthma Intervention in Houston's Public Housing during COVID-19: Challenges, Adjustments and Findings
Identifying Lead Poisoning Risk Factors among Non-pregnant Adults in New York City through Motivational Interviewing Techniques
How to Select a Bed Bug Treatment Provider: What works, doesn't work, and the latest advances in pest management
Implementing Healthy Housing Action Framework: Municipal Strategies for Building a Coalition, Identifying Priorities, and Effecting Change
Legionella and the Home Environment
History and Overview of Urban Lead Contamination Research
When Will the Virtual Conference Take Place?
All of the sessions of the Virtual Conference will be released beginning the week of February 20th, and will be available 24/7 for 6 months.
Where Can I View the Virtual Conference?
Wherever you're most comfortable. Since this is a virtual conference, you will be accessing all of the presentations online through a computer or mobile device that has an Internet connection.
What if I Can't Make Some of the Sessions?
No problem. You will have access to all the sessions through August 2023.
The Winter 2023 Virtual Conference has been pre-approved for 25 CEU hours by the National Environmental Health Association (NEHA). Registrants will receive the Certificate of Completion upon request. Send your request to weilcm2@verizon.net.
By attending this virtual conference rather than a hotel-based conference, here's what you'll miss:
You won't have to wait for an Uber ride to the airport.
You won't have to be padded down by the TSA agent.
You won't have to stand in a long line in Concourse A to get a Starbucks coffee.
You won't have to take an hour's ride to the hotel and wait behind 8 others to check in.
You won't have to find out that your hotel room won't be available until 4:00 p.m.
You won't discover that your name is misspelled on your conference badge.
By attending the Virtual Conference on Lead and Healthy Housing, here's what you'll get:
24/7 access to over 25 new presentations for 6 months.
New ideas, success-proven strategies, ways to improve job performance and the latest in research findings that will keep you informed and ahead of the game.
You can access the conference remotely from your home or from the office.
Access to all conference session replays on demand.
The Virtual Conference has been pre-approved for 25 hours of CEUs by the National Environmental Health Association.
Option #1 – $97.00 per registrant.
Option #2 – $300.00 unlimited registrants from the same organization.
The registration fee entitles you access to all the conference presentations through August 2023.
Have Any Questions or Interested in Making a Presentation for a Future Conference?
Contact us using the following secure email form.
| Topics | Presenters |
| --- | --- |
| Use of Evidence Guided Strategies to Implement Smokefree Housing Rules | Vaughan Rees, Harvard School of Public Health |
| Efforts to Increase Lead Hazard Control Grants Uptake for Residential Lead Remediation during the COVID-19 Pandemic: A Case Study in Lancaster, PA | Harriet Okatch, Franklin & Marshall College |
| Contribution of Tobacco Smoke to Levels of Lead and other Metals in Household Dust | Nicolas Lopez Galvez, San Diego State University |
| How to Inspect that the Lead Hazard Control/Remediation Work is Done Properly | Ron Peik, Alpine Environmental |
| An 'In-Home' Asthma Intervention in Houston's Public Housing during COVID-19: Challenges, Adjustments and Findings | Rebecca Jensen Bruhl, Baylor College of Medicine |
| Identifying Lead Poisoning Risk Factors among Non-pregnant Adults in New York City through Motivational Interviewing Techniques | Nevilla Bardhi, NYC Dept of Health and Mental Hygiene |
| How to Select a Bed Bug Treatment Provider: What works, doesn't work, and the latest advances in pest management | Susanna Krysko, Cornell University |
| Implementing Healthy Housing Action Framework: Municipal Strategies for Building a Coalition, Identifying Priorities, and Effecting Change | Becky O'Meara, National League of Cities |
| Legionella and the Home Environment | Robert Powitz, R.W. Powitz & Associates |
| History and Overview of Urban Lead Contamination Research | Howard Mielke, Researcher |
| How to Collect Paint Chip Samples | Michael Sharp, Janus Corporation |
| Containment Set-up Practices | Michael Sharp, Janus Corporation |
| Compliance with EPA's RRP Rule for Property Management Companies | Lee Wasserman and Greg Krueger, LEW Environmental |
| The Role of the Parent Advocate of a Lead Poisoned Child | Bett Cantley, Ohio Lead Free Kids Coalition |
| Lead-Based Paint Management…and The Numbers | Tom Laubenthal, TGL Consulting, Inc. |
| Science and Lead Toxicity – What we know so far | Alexander Ufelle, Slippery Rock University |
| Engaging Community Youth in Environmental Justice Outreach for Lead Awareness and Prevention | Johanna Arias-Bhatia, Los Angeles Housing Department |
| Reforming the Nation's Lead Poisoning Prevention Laws and Charting Progress | Dave Jacobs, National Center for Healthy Housing |
| Enhancing Equity in Lead Service Line Replacement Programs: A Step- | Mason Hines, RESOLVE |
| Research-Tested Programs that Promote Home Environments for Healthy Living | Ja'Shondra Pouncy and Shade Owolabi, Emory University |
| Lead Prevention in Early Child Care and Education Settings (in Spanish) | Roxana Amaya-Fuentes, Children's Environmental Health Network |
| Unlocking the Power of Home-Based Asthma Services | Laura Fudala, National Center for Healthy Housing |
| Lessons Learned from Trying to Reach Refugee Populations with Lead Poisoning Prevention Messages | Ayda Posso, Salt Lake County, UT |
| Healthier Homes from the Outside In: making environmentally sound choices about locating and building affordable housing | Debbie Chizewer and Fernando Gaytan, Earthjustice |
| Building and Maintaining Radon Safe Communities | Paul Melillo, Protect Environmental |